2018 | 2017 | 2016 | 2015 | 2014 | 2013 | 2012 | 2011 | 2010 | 2009 | 2008 | 2007 | 2006 | 2005 | 2004 | 2003 | 2002 | 2001 | 2000 | 1999
---
2018
---
Good morning,
We stayed at Kiahuna Plantation #142, in building 21, from June 4-12th. It is a 2 bedroom / 2 bathroom/ 2 story condo. As you enter the condo you can either go up the stairs or continue down a hallway that contains the bedrooms and bathrooms. The spare bedroom has 2 twin beds separated by a nightstand. There is an air mattress in the closet and also mats to lay on the ground and sleep on. The spare bathroom has a single person shower only. The master bedroom has a slider door that leads out to the lanai and the grassy area. This bedroom has a shower/tub combo if you need the tub. Both bedrooms have a tv in them (which we never turned on).
All of the living space is upstairs and it is spacious! There is a 6 person dining table, 4 person breakfast table and seating for at least 6 in the living room. The kitchen is well appointed and had all the tools and appliances we needed. The lanai off the front has a beautiful view of the lawn and seating. The back balcony has a closet that contained boogie boards, beach chairs, beach umbrellas and a cooler. There are quite a few books in the living and some board games in the entertainment center. The only thing we had to go buy were a couple decks of cards (only because we forgot to bring them as we usually do).
We have stayed at the plantation before so knew there was no AC. It was not a problem at all for us. There were ceiling fans in the bedrooms and 2 movable fans to tote around. This unit is an end unit with vaulted ceilings which helped in keeping the top floor relatively cool.
The location is amazing. It was less than a minute barefoot walk to the beach. This came in handy when we had 45 min to spare one day and went and jumped in the ocean! Upon check in you get towel cards to exchange at the towel hut next to the beach. I believe their hours are 0830-530pm. They also have chairs you can take to the beach and loungers that can be used on the grass area.
We got married at Shipwrecks beach and had our wedding dinner at the Plantation Gardens on the property. We enjoyed the food and the cake that we had the baker make. The staff was very attentive and service was great. The gardens make for great photos.
Yes, the pool is across the road. We drove there once and walked a few times. Upon entering and checking in you are giving towels for your party. There is a beach entry sandy area and then the main area of the pool. The kids enjoyed the slide, the adults enjoyed the pool side adult beverages and food. We liked to go to the pool when we wanted to relax a bit as at the beach we were always in the water with the kids or watching them closely. The pool gave us a bit more freedom to read or chat.
I utilized the laundry mat twice during our stay. Washer and dryer are $2.50 each and you can buy laundry soap there. I packed Tide pods for our stay and left the ones I did not use in the closet for the next person.
Parking was not an issue. A couple evenings when we came home later we had to park a bit away but it was not that long of a walk.
We booked the property directly through the owner, saved on VRBO fees. If you google "Kiahuna Plantation #142" you will get his website. I dealt with the owner via emails and phone calls and he would respond quickly. I was able to secure a late check out (as our flight did not leave until 4pm) by paying half the cost of that night. It was so worth it as we enjoyed the pool for a couple hours before we left.
We plan on going back to Kauai at some point and will definitely rent this condo again if we take the kids (no need for such a big space if just two people).
Trip Advisor Review from June 24, 2018
---
Good morning,

I would just like to thank you for the use of your condo at the Kiahuna. We had an AMAZING time in Kauai, and loved the condo. It was a perfect fit for all of us, with close beach access and grounds that were like paradise. My wife did leave an entry in the book there to note how wonderful everything was. It was very difficult leaving there and returning to WI to -4 degree temperatures. I will be looking at my videos and pictures to warm me up. Thank you again and enjoy your weekend. Mahalo!

Mark Eickner

January, 2018

2018 | 2017 | 2016 | 2015 | 2014 | 2013 | 2012 | 2011 | 2010 | 2009 | 2008 | 2007 | 2006 | 2005 | 2004 | 2003 | 2002 | 2001 | 2000 | 1999
---
2017
---
Hello Ward,
I just realized that I never sent you a thank you after my family's stay at your Kiahuna 142 condo in November. It is a lovely unit- well furnished, spacious and with beautiful views. Thank you! We will definitely keep it in mind for future visits. Happy New Year!
Best regards,
Sue Corey
December, 2017
---
Just would like to say had a great stay last week. It was really nice to step out the door and on to the beach. The unit was clean and comfortable. Hopefully we can go back in the spring sometime.
Thank you....... Terry
September, 2017
---
Dear Gordon
We loved our stay at #134. Just as we remembered it and better. We had papaya every morning that we bought at the farmers market in Koloa Monday at 12:00. We got there early and were able to look around before it opened. We enjoyed Mai Tai's at the Marriott. Fun to watch a surfer dad with his 3 year old son. I will send a picture. We also enjoyed a two hour tour of the Grove Farm Plantation. Beautiful gardens and a lovely setting. It was fun to see the inside of the house and all the collections. We had tea and cookies in the kitchen. Our tour lady showed us all her pots and pans. She told us that our smile is unique to each of us and we should show it often. Very sweet !
Thanks so much. Fondly!
Phoebe and Ernie
September, 2017
---
Gordon, Just wanted to drop you a note to let you know what an amazing time we had in your Kiahuna Plantation unit 191. We have been staying at the Plantation now for many years, but this is the first time that we have stayed on the beachfront and I have to say that I now can't imagine it any other way. We have two young teens who spent every single day in the water and that location allowed us to not only keep an eye on them, but also to have the convenience of making lunches and spending time together on the beach. We ended up cooking almost every meal at home, because we discovered that we had the best view in Poipu right there on our patio. I thank you so much for sharing your home with us and I can't wait to spend another night listening to the crashing waves in Unit 191 again someday. Mahalo.
Kristen
Monrovia, CA
August, 2017
---
Hi Gordon,
Just a note to thank you for a great spot to relax and enjoy Kauai. We loved it. It's been 25 years since we have been to Poipu-way too long. We have been to the other islands since but we won't make it so long next time to Kauai. Maybe next year??!! We could make this a habit! You'll be the first to know.
Thanks again for your services.
Aloha,
Sheri and Phil
May, 2017
---
I just wanted to let you know how much we enjoyed out stay in Unit 134 at Kiahuna Plantation. The weather was ideal, temperatures in the low 80's with showers in the early a.m. We really like the location of the unit as we can walk across the street to the shopping center. We did just that two mornings for breakfast and also drove to the golf course restaurant for breakfast several days. This was a no cooking vacation for me so we only used the kitchen for coffee, preparing fresh fruit, etc. The unit was quiet and relaxing and after our "longer than normal" winter in Boise the sunshine was so welcome. Hopefully, we will be back again.

P.S. Thanks again for the later check out, it was appreciated. Sheryl O.

April, 2017

2018 | 2017 | 2016 | 2015 | 2014 | 2013 | 2012 | 2011 | 2010 | 2009 | 2008 | 2007 | 2006 | 2005 | 2004 | 2003 | 2002 | 2001 | 2000 | 1999
---
2016
---
Gordon,
I just wanted to drop you a quick note and let you know that we had a wonderful visit last week to your condo. This was our first visit to Kauai and Poipu and Kiahuna Plantation were the perfect base to begin our explorations. Thanks again and we hope to return in the near future!
- Dave and Nancy
December, 2016
---
Hi Gordon, I have been meaning to email you and tell you what a wonderful time we had, and loved our beachfront location..... There was some construction right next to us at the towel shack which wasn't pleasant some of the time....... but other than that we loved our stay........We hope to go back in the future.......
Happy Holiday Season, Candis
November, 2016
---
Dear Gordon:
We are having a really lovely time in your condo. It is very special. Thank you. Kind regards Tim
September, 2016
---
Hi Gordon,
Last few hours here in paradise. Your cottage (#191) was fantastic!! I left a snorkeling mask in your closet along with the other swimming gear.
Aloha!!
Jeff
July, 2016
---
Hi Gordon,
Just wanted to tell you how much we enjoyed our stay in your great condos. We had a fabulous vacation and it was nice to have the whole family together . We did manage to do some damage to the screen door in the master bedroom. Please let me know if we can pay for the repairs. Thanks again and we hope to be able to return again next year.
Janet
May, 2016
---
Aloha Gordon,

Scott and I returned late Saturday night from a fantastic trip in Kauai! We really loved the Kiahuna Plantations and your condo, and felt it was the best place to stay on the north shore. We went snorkeling at Poipu Beach in the morning (a monk seal or two were always there), then did some sightseeing in the afternoon. Some of our favorite things were seeing Waimea Canyon, hiking along the cliffs beginning at Shipwreck Beach, and taking a catamaran sunset trip to Na Pali. We used Blue Dolphin and the crew was fantastic! We got lucky on that trip and saw a mother whale and her calf less than 50 feet from the boat. Dolphins swam close to the boat, as well. We think the boat trip was the highlight of our vacation.

I mentioned to the front desk that the dishwasher's wash cycle would not turn off, and we would have to turn it off manually. They said they would have someone look at it after we left. Other than that everything was fine in the condo.

Thank you very much for allowing us to stay at your condo. We loved it as it was in the perfect location for us to enjoy the sights and beauty of the grounds.

Best Wishes,
Loretta and Scott

April, 2016

2018 | 2017 | 2016 | 2015 | 2014 | 2013 | 2012 | 2011 | 2010 | 2009 | 2008 | 2007 | 2006 | 2005 | 2004 | 2003 | 2002 | 2001 | 2000 | 1999
---
2015
---
Aloha Gordon,
We just back from Kauai and wanted to let you know what a spectacular time we had at your condo! The unit is beautiful, clean and the location cannot be beat! Thank you so much for accommodating us and we look forward to staying there again!
The Ventura Family
June, 2015
---
Aloha Gordan.

Everything was great. It is amazing how quickly the 19 days goes by. #191 is our favorite and the stove addition and shower make it that much more comfortable. My first trip to Kiahuna was 1983. The changes they have made in the last few years have really been positive. We go out to lunch one day and dinner the next, we had 10 lunches out and 9 dinners. We went to a total of 14 different restaurants most within walking distance that we would go back to all of them. We are currently in the process of setting up next years trip. Every few years we spend a week with friends that rent a house in Hanalei. We haven't firmed it up yet but tentatively we are looking at Arrive May 5 Depart May 17 total of 12 nights. Let me know if #191 is available and I will try to firm up. Thanks for everything, we really enjoy your unit.

Bob

May, 2015

2018 | 2017 | 2016 | 2015 | 2014 | 2013 | 2012 | 2011 | 2010 | 2009 | 2008 | 2007 | 2006 | 2005 | 2004 | 2003 | 2002 | 2001 | 2000 | 1999
---
2014
---
Gordon:
Aloha! My sons and I had the MOST wonderful time on Kauai...and your condo was exactly what we needed (July 25 - August 1)! Kiahuna was the absolute perfect location, and the beautiful lawn and ocean were the best! We all could "do our thing" right there -- swimming, snorkeling and surfing. It really could not have been better.
MAHALO MAHALO for opening your home to us...we look forward to returning someday to the magical island of Kauai. There were shades of green I didn't know existed!!
Anne Martin
Richmond, VA
August, 2014
---
Dear Gordon and Barbara...

Just wanted to drop you a note to say thanks for the use of your condo #191 at Kiahuna. We had the best time and it was everything we could have hoped for and more. We had beautiful weather the whole time we were there and Gayle said it was the best vacation she had ever been on and I have to agree. One really interesting thing happened. I had told you that I vacationed there 30 years ago and at that time we met a guy working there named Tim and became friends with him during our stay but lost touch a couple of years after. Well, on our second day there this guy that worked there was walking by and came up to us and asked how we were doing and it was Tim. I couldn't believe it and neither could he. We got caught up on all that we had been doing for the last 30 years and for the rest of the trip both of us were just amazed at seeing each other again after all these years. Tim is now head of security and we both exchanged numbers and addresses so we can keep in touch. Amazing! We ate at Plantation Gardens a couple of times, had lunch at Brenneke's and breakfast at Joe's on the Green a couple times as well and they were all great. The rest of the time we just soaked up the sun and warmth, saw many great sunsets and met some really great people too. We are both looking forward to next year already and are thinking about adding a week to the two we asked for next year. If that is available please let me know and we will decide if we are going to do it. Right now I think Gayle would say yes and I am definitaley leaning that way myself.

Again, thank you both for letting us stay in the best place in Hawaii and I hope many more to come.
Jack and Gayle.

April, 2014

2018 | 2017 | 2016 | 2015 | 2014 | 2013 | 2012 | 2011 | 2010 | 2009 | 2008 | 2007 | 2006 | 2005 | 2004 | 2003 | 2002 | 2001 | 2000 | 1999
---
2013
---
Gordon – We wanted to say thank you for the wonderful time in your unit 142. The location was perfect and we loved the fact the bedrooms were downstairs while the living area was upstairs it was just the right size for our family. The large windows just add to the ambiance of the unit and the views from the lanai were wonderful. We also enjoyed all of the beach extras (chairs, coolers and boards) in the unit daily. Hopefully we can stay in the unit again in the near future. September is a wonderful time to visit Poipu.
Thanks,
Eric
Oct, 2013
---
Hello Gordon!
Just wanted to say "thank you" very much for a relaxing time in your wonderful Kauai Condo! We purchased three boogie boards at Costco on our first day, and left them next to the closet in your unit hoping that someone else can enjoy them as much as we did. Also, we noticed that there are three small places in the right-hand screen door (facing the ocean) where it appears that the screen is coming away from the frame. We thought that you should know in case it has not been reported to you. Even so, we did not find one bug within the unit our entire stay. We had such a nice family vacation, and hope to be in touch with you to request and return to your beach unit once again in the future!
Much appreciation for everything! --Sheryl and Family
July, 2013
---
Hi Gordon. Once again we had a teriffic time at the Kiahuna. We really like your upgrades and are interested in 2014. I am not sure how much in advance you like to rent but we are interested in #191 from Thursday April 24th until Tues. May 13th. 19 nights. Let me know if avail. and the price and hopefully we can book it.
Thanks, Bob
June, 2013
---
Hi Gordon
We just returned from our week in your unit 191. Your description of "the best property in the complex" is quite accurate. The view and sounds were breathtaking.
Wanted to let you know that the service from the resort was terrific. Security came by daily to check on things, and when we needed maintenance for the patio door lock, they came right away. Very polite, friendly and accommodating.
Thank you for renting us your unit. We have family that live in Kapa'a and plan to be back once or twice a year. The grandkids grow up much too fast. So we will be back in touch in the very near future.
Nancy and Rick Hofmann
May, 2013
---
Hi Gordon! Just wanted to let you know that we loved #142 At Kiahuna. The weather was perfect and we only had rain one night. The grounds were just as beautiful as we remembered. Loved your place. Thank you for sharing. So busy didn't get a chance to sign the guest book.
Aloha! Janace Shields and family
May, 2013
---
We are leaving this morning after spending 10 wonderful days in condo 134. What a wonderful location-----right in the middle of the complex, with wonderful garden vistas, very private yet close to the beach and the parking lot. Short walk to Poipu shopping center for wonderful restaurants and shops, and short drives to the shops at Kukueula, spouting horn, Waimea canyon and myriad beaches besides the one right here! Heavenly and very relaxing------thank you for sharing your home with us, we hope to rent from you again,
Thanks,
Gordon and Mimi Haberfelde
May, 2013
---
Dear Gordon,
We loved our stay in your condo, what a location! So, we want to come back in October. Do you have any availability for Oct 4 to Oct 12 for unit 191?
Sincerely,
Mark
May, 2013
---
Hi Gordon,
It's been a while since we've been back, but we can't stop thinking about Kauai and our 'cabana' #191! We had a wonderful time on the island and in your unit. The trade winds were howling the first several days which had us eating at the inside table and looking out to the gorgeous view. One day, my husband said it felt like our own beachside cabana, and that is what we have called it ever since.

The grounds were so lovely and felt so safe, we had no problem letting our 9 and 13 year olds explore on their own. We also soon got used to the brief but sometimes drenching rain showers that passed by, finding a lot of humor in always looking for an escape route to shelter should one come around. We live with a lot of drizzling rain here in Seattle and still had no idea you could get so wet so quickly.

My daughters did use a couple of boogie boards that were in the closet, much fun, glad they were there. We were also thankful for the futon pad in the closet as they found the sofa bed really thin and lacking much structure. The futon came in very handy. We remade the bed with that on top of the sofa matress and it helped a lot. Our accountant and his family with a large teenage boy were unexpectedly staying in another unit, and did not realize until they saw our place that it was a pull-out! At least he enjoyed it his last night.

We realized after we got there that these units are more uniformly set up with a certain number of things and not any oils or other things left for cooking as in other direct rentals. It was fine, just a bit unexpected. I realize that Castle probably controls a lot of what is in there, but it would be nice if the plates, etc. did two rounds for the full occupancy. With only 6 plates, we found ourselves washing quite a bit to make it from breakfast to lunch. We also used the bbq's across the lawn one night. They are gorgeous and pristinely clean. Best rib eye from Living Foods.

We loved the shower! It was also a little bit strange, as the tile you have on the walls is the exact tile in our beach house in Oregon. We both have very good taste.

We took a trip to the north shore one day and had a great dinner at Bar Acuda, a memorable meal. We also loved Tortilla Republic, upstairs and downstairs and the Living Foods Market for some take-out. We also had a couple of breakfasts out, both at the Kalaheo Cafe because it was so good the first time.

Even thought the weather was a bit cooler and there was more rain than we experienced on the Big Island, we just can't seem to get Kauai and your lovely cabana out of our mind. Do you have it available for the same time period next year? Feb. 15th - 23rd. We can't think of a better place to spend our vacation!
Thanks you,
Christine
March, 2013
---
Gordon let me start by thanking you so much for the opportunity to stay in you units in Kauai. Our vacation was fabulous and staying in your homes was definitely a big part of that. Unit 142 was so light and airy. We had plenty of room to entertain my other family members when they drove down from Hanalei for the day. This was our first time staying in a two bedroom and it much more spacious than I had imagined. However, our stay in unit 191 was very special. We have stayed in 1 bedroom units over the years but never had the luxury of watching our kids in the water while sitting in front of the unit. We did discover that a one bedroom unit works for our needs and two is a little more than we need for just us 4. We also love being closer to the beach.
We are already looking into our trip for next year and I wanted to ask what the rate would be for unit 191 and whether or not it is available during the week of 2/9-2/16/14 or 2/16-2/23/14.
Thanks again.
Kristen P.
March, 2013
---
Aloha Gordon,

We have had a wonderful and too short stay at your condo. I'm looking out and watching Humpbacks breech as I write this. We did the Napali Coast cruise this morning with 12 foot swells, very exciting!

We hope to return to Hawaii next year and certainly would come back to your Unit. I think we'll stay a bit longer. I'll look at my calendar and be in touch.

All was well here with the exception of a loose kitchen faucet that Maintenance fixed in a jiffy. And the 2 bedroom unit was great for our boys an their wives.

Off to the Mana Kai Maui tomorrow! Mahalo,

Bob D.

February, 2013

2018 | 2017 | 2016 | 2015 | 2014 | 2013 | 2012 | 2011 | 2010 | 2009 | 2008 | 2007 | 2006 | 2005 | 2004 | 2003 | 2002 | 2001 | 2000 | 1999
---
2012
---
Hi,
Having a fabulous time on the plantation. Thanks for sharing you condo. I see you put in a new shower and carpet. Place looks great. You might hear from maintenance as I phoned regarding the ice maker on the fridge not working. Hope to rent from you again next year.
Thanks for everything,
Laura
December, 2012
---
Hi Gordon!
I wanted to let you know we have thoroughly enjoyed your gorgeous beach-front home over the past week! I agree with the others #191 is the way to go! Anyway, I am writing you because we just learned our morning flight back to SF tomorrow has been cancelled and they are rebooking us on a 4:40p flight in the afternoon. I am wondering if you'd be willing to allow us to have a late check out at 3p so that our kids can nap before we head out for our long flight home. I can't tell you how much this would help us.
I just asked about a late check out at the front desk of Castle Resorts and they said I'd have to get approval from you, hence the email. I look forward to hearing from you and thank you in advance for considering.
Warmest Regards,
Vicky and Keith
November, 2012
---
Hi Gordon,
Just wanted to thank you for the use of your condo. It worked out perfectly for us. I ended up buying a playpen for my grandson. It is almost brand new, so I folded it back up and put it back in its original box, and left it on the top shelf of the closet in the bedroom with the twin beds. I also left a few building block toys, drawing books, etc in the wicker bench by the dining room.
Did you hear about the big rain while I was there? about a week ago? They had between 7.5" and 8.3" of rain on the island of Kauai within a 24 hour time frame. There were lakes of water all over Kiahuna Plantation, even the lagoon flooded over its banks etc, but the condos were all left undamaged. Within a day and a half, all the water had gone and you would never know such a big rainfall had occurred.
Anyhow, thx again for the use of your condo.
Jeanette
Calgary
March, 2012
---
Dear Gordon,
First of all, let me tell you what a wonderful time my family and I had on "The garden Isle." It really is every bit as lovely as we'd heard. Kiahuna Plantation was a marvellous resort to stay at. The staff were very attentive and friendly, and we loved the grounds. Those long expansive lawns were thoroughly enjoyed by my grandkids and children as well. Better bocci grounds you couldn't ask for! The orchid and cactus gardens were one of my favourite spots. And, as I'm sure you've heard many times, we really liked your condo. Everyone appreciated how well appointed it is (loved the stamps) and the great open expanse of the upstairs. A great view! We really appreciated your leaving the toys for us to enjoy. We didn't use them all, but certainly many.
I'm not sure where we'll decide to go next, but if it's Kauai, I hope we'll be able to stay at your place again. Once I've finished editing my photos I'll send you a few so you can put a face to the name.
Thanks again. It was a great vacation.
Sincerely,
Paul
February, 2012
---
Hello Gordon,
We had a wonderful time in Kauai, and thank you for providing such a nice place. You have a perfect location at the Plantation. I loved having the water right out the door for going out on morning swims, and my wife loved watching whales from the lawn. Our little one really enjoyed running around the large grassy area, too. We had perfect temperatures and it was a luxury to fall asleep every night to the sounds of the ocean. We cooked most of our meals at the condo and everything in the kitchen worked well. We strolled around Poipu and saw some of the other properties there, but we feel it would be disappointing to stay anywhere else compared to your place.
We kept the screen doors closed as you asked, but I did see a gecko on the kitchen ceiling on our second night. It quickly scampered away and I never saw it again. We brought our own mask, fins, and snorkels so we didn't use the beach gear in the closet, but I did notice a couple if the boogie boards were coming apart and had broken leashes.
We had quite a vacation to remember, and we hope to return again someday.
Mahalo,
Dave
January, 2012
---
Dear Gordon,
Thank you for a lovely stay. We really enjoyed the condo and facilities and hope to contact you in the future for more stays!
Joanne, Dave and Stella
January, 2012
2018 | 2017 | 2016 | 2015 | 2014 | 2013 | 2012 | 2011 | 2010 | 2009 | 2008 | 2007 | 2006 | 2005 | 2004 | 2003 | 2002 | 2001 | 2000 | 1999
---
2011
---
Hi Gordon,
I wanted to let you know we had an incredible vacation on Kauai. The condo was fantastic and the weather was great. We'll definitely want to rent again next time we go back.
Thanks again.
Chris
May, 2011
---
Thank you so much for renting the wonderfully comfortable #134 from Feb. 26th to March 6th. It was pertfect for our son and his family. You even had an infant seat that they used for meal times! All the best to you and again our thanks. I am freezing back here in Bellevue, Washington.
Louise
Mar, 2011
---
Hello Gordon,
We're just back in Boston after a very long day of travel--just a quick note of thanks. We had a wonderful time in your condo and loved every minute of our time in Kauai (especially once the weather cleared up). We look forward very much to our next visit.
all best,
Joe
Feb, 2011
---
We had six day of (mostly) sunshine; rain on-and-off on our last day as we drove up to Princeville and the botantical garden. But even the rain is beautiful in HI!
New fabric on the living room furniture looks very sharp. It was a wonderful stay -- we miss it already. Thanks for sharing such a special place. We hope to rent again from you in the future.

Warm regards,
Erin and family
Feb, 2011
2018 | 2017 | 2016 | 2015 | 2014 | 2013 | 2012 | 2011 | 2010 | 2009 | 2008 | 2007 | 2006 | 2005 | 2004 | 2003 | 2002 | 2001 | 2000 | 1999
---
2010
---
Hi Gordon,
The condo worked well for us. Just checking in to let you know we were very satisfied. It would be nice to have a coffee grinder, but not the end of the world. everything was perfect for us.
heading out early in the am for Hilo.
Thanks again for such an easy rental
kristi
December, 2010
---
Hi Gordon.
Just wanted to let you know that my family and I just got home from our wonderful vacation in your three condos. We loved your condos and would love to go back again, possibly next summer. Thank you so much for sharing your places with us. We couldn't have asked for nicer weather, and the ocean was amazing! Just fyi, we bought 4 boogie boards when we first arrived, and left them in the family room closet in unit 191. I am hopeful the cleaning staff will leave them there and your future guests can enjoy them! We ziplined in Princeville, we toured the Na Pali coast in a zodiac and had the rare opportunity to swim with spinner dolphins in the ocean, we boogie boarded until our stomach's hurt from laughing, and the boys all tried surfing. We had a wonderful time with family, in a beautiful place, and for that, we all thank you.

Warm regards,
Judy, Kathy, Barbara and familes.
June, 2010
---
Gordon,
I wanted to let you know Jackie and I had very enjoyable time (February 20-24, 2010) in unit 134. We first came to the Kiahuna Plantation in the mid 1980's. It is our favorite place in the world to vacation. We were reminded again how much we like #134. It is somewhat off the beaten path but still close enough to enjoy everything. The accommodations were first rate. The weather was absolutely fabulous which was helpful as we played golf every day. To any of your guests who may be golfers I can personally recommend the Kiahuna Golf Club. The new paspalum greens and fairways were excellent, not to mention Kiahuna GC is a terrific bargain if staying at Kiahuna Plantation. We are veteran golfers and would rate Kiahuna's greens every bit as good as the paspalum greens at the Ocean Course at Kiawah Island.
Thanks again,
Russ & Jackie
Ft. Worth, Texas
February, 2010
2018 | 2017 | 2016 | 2015 | 2014 | 2013 | 2012 | 2011 | 2010 | 2009 | 2008 | 2007 | 2006 | 2005 | 2004 | 2003 | 2002 | 2001 | 2000 | 1999
---
2009
---
Gordon,
Just wanted to drop you a note and say thanks for letting us use your condo #191 at Kiahuna Plantation. We were there from 7/5 to 7/19 (plus 2 more nights in #193) celebrating our 25th anniversary with our 2 daughters. The beach front condo was a surprise to my wife, but we all thoroughly enjoyed the view and the sounds. We spent most of our days either on the lanai or on the beach. It was a very relaxing 16 days.
It reminded me of my childhood and gave my kid's a little taste of what I had as a kid. My grandparents retired in Laguna Beach in So. Cal. and had a place right on the cliff overlooking the ocean with a short walk down a path to a "private" beach. We'd spend the month of August there every year. It was the best. Being at your place and listening to the waves day and night brought back those memories.
Again, thank you. It made a very special anniversary. When we return to Kauai again, I will be in touch with you to see if #191 is available.
Thanks,
Kip and Renee
August, 2009
---
Hi Gordon -
Pete and I just want to thank you for all the nice touches here at Kiahuna. We appreciate the small coolers, the hair dryer AND curling iron, the comfortable furnishings ... and we also love the location and tranquility! The weather has been wonderful - typical Kauai summer stuff with lots of beautiful rain showers, rainbows, and sunshine! And the ocean temperatures are fantastic! We are loving our time here in 134 and thank you very much!! Fondly - Sally & Pete Kelly Sent from my iPhone
Fondly - Sally & Pete Kelly
July, 2009
---
Hi Gordon,
Just a wee note to tell you how much my son Derek and his family enjoyed your condo. It was much bigger than they expected and just loved staying there. We had two other condos at Kiahuna and the family just loved Kauai. They all want to go back next year. I had a hard time getting them to move off Maui but they all agreed that Kauai was " the place" and don't want to go back to Maui. We had perfect weather- no rain and we boogie boarded and snorkeled our way through the week. The Plantation beach was delightful and we enjoyed the luau at the Sheraton( particularly the walking home part!) Thanks again for letting us share your little part of paradise.
Sincerely,
Carol
May, 2009
---
Gordon
I don't think we ever wrote back to thank you again for our wonderful stay at your condo, but rest assured we loved it, and it was the perfect home base by which to enjoy and explore Kauai. After being there and looking around at the other places we had looked at online, we were so pleased that we settled on your place, and would love to return again.
I am cc'ing Kashia, one of our great employees, who is getting married soon and is looking for a place to honeymoon…. Of course we thought of you, so we will let you and her continue the discussion. Take care, and thank you again for helping us have an absolutely perfect vacation.
Best to you,
Mark
April, 2009
---
2018 | 2017 | 2016 | 2015 | 2014 | 2013 | 2012 | 2011 | 2010 | 2009 | 2008 | 2007 | 2006 | 2005 | 2004 | 2003 | 2002 | 2001 | 2000 | 1999
---
2008
---
Thank you Mr. Ward for allowing us to use your condo this last November.It suited our needs perfectly. Kiahuna Plantation & Poipu Beach beach is a glorious area and we have totally fallen in love with Kauai. Here's hoping we can return soon.

Again, Mahalo.
Jennifer
Dec, 2008
---
Aloha,

Just got back from our trip. The condo was a delight. I loved looking out at that big expanse of green lawn and palms. A super location!. We had an awesome trip, some rain at first but then it cleared up. You just can't beat that beach at Kiahuna. We saw sea lions, turtles, dolphins and even a killer whale which washed up to the beach across from Breneckes. Thank you for the use of your beautiful condo!

Ed & Sue
Oct, 2008
---
Hi Gordon,

I wanted to tell you that we really enjoyed the condo. We even extended our stay two additional nights in the condo two doors down - even though we had prepaid rooms at the Hyatt on the same nights. We will keep you in mind for future vacations and recommend your condo to others.

Mari Jo
Oct, 2008
---
Gordon,

We had a wonderful time! the unit was great as we suspected we love the interaction with the people. everything was in order and as usual the Kiahuna was awesome. I hope we can stay in 191 again.

Thank you,

John and Debbie Smith
August, 2008
---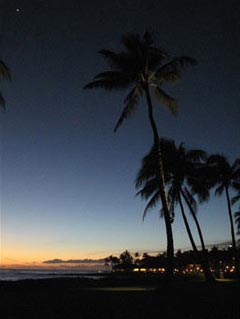 Hi Gordon, we had a wonderful time in 191 and it was the perfect place for us. My sister and her husband were in 196 and then we had 142 and 52 and 152. Being next to the activity shack was perfect for chairs and towels and the grassy area in front of your place off the patio was where we had dinner every night as we used the barbecue quite often. We went out to dinner once to Keokes and then to Roys for my birthday as all the kids took us there. One night we went to Happy Hour at Casablanca and just had pupus and the grandchildren came back to play on the grass as they had so much fun playing soccer, whiffleball, you name it the kids were playing it.
Met so many interesting families at the barbecue and my boys played golf with one fellow we met at the barbeque. By the way our weather was spectacular as it was 85 during the day and 73 at night and it only rained in the middle of the night. surf was great and our 2 older grand children took surfing lessons from the surfing school. they are 7 and 9 years old.
Thanks again for you great place.

Gayle and Joe
July, 2008
---
I want to thank you for your wonderful piece of paradise….we had a great 2 weeks there on the beach! What a beautiful location….

We will definitely be back to that complex….it was a pleasure for the large group that we traveled with and nice to have the unit right on the beach as a meeting place for everyone.

Thanks again.

David and Lisa
June, 2008
---
Gordon,

I wanted to write you a note to tell you what a great time we had in unit #134 for the week of April 20. I have been to this property before the your unit had the same floor plan as the one we stayed in before. However, the location was ideal. The ocean view and close walking distance to the beach, restaurant, etc. was great.

We also appreciated all the little extras that came from renting from an owner. I enjoyed listening to the slack guitar CD and all the beach amenities were good. I did a puzzle and we played games as well. It was a treat to just sit in the Lanai and read.

I must confess I love the coconut ice cream at the Lapperts in Koloa! We enjoyed a Zodiac raft trip as well as many hikes exploring the island.

Thanks again for sharing your home away from home with us.

The Campbells
May 5th, 2008
---
Hi Gordon,

We are just recently back from staying in your unit #134 at Kiahuna and had an absolutely fabulous holiday. We have been to Oahu a number of times and this was our first time to Kauai. We fell in love with the Island and would like to come back. It is much more than what I thought.

Truda
April 2008
---
Dear Gordon:
I read through the comments on your website. Frankly, the emails looked and sounded as if you wrote half of those comments yourself.
Aloha, George G.
Dear George,
We assure you that none of these are "made up". We only edit out the last names for privacy reasons. It's true that most emails are glowing reports of Kiahuna, but, hey, it's paradise!
Aloha, Gordon
April 2008
---
Hi Gordon,
Just wanted to says we had a fabulous time at your condo and we look forward to booking it again when we go back. I just hope we weren't too hard on the blender... haha. Thank you!
Aloha,
Marc
March 15th 2008
---
Hello Gordon,
We are back from our Hawaii trip and wanted to let you know how much we enjoyed staying in your Kiahuna condo, unit 134. You have a great location there, with the lanai opening up onto the expanse of lawn. We will definitely keep your unit at the top of our list for our next visit. I think you said you own other units? If so, what number units are they? Is one a 2 bedroom for when we want that again, for when our boys come with us or other family. Thank you again.
Kathy H.
February 2008
---
Aloha, Gordon,

Just a note to tell you how much Steve and I enjoyed our time at #134. Naturally, the lanai was our favorite spot; it's hard to beat the peaceful nature of the place. Because this was our first vacation without our now college-age daughter, we were quite adventurous and kayaked in rivers and ocean, did the helicopter ride, had a blast.

I'm sure we will return to your condo next year. We do have an interest in knowing what the rates would be for the two-story condo (not the one on the beach), also in February.

Please let me know when you get a chance,

Mahalo,

Pam H.

February 2008
---
Mahalo Gordon, for making this condo available.

We've stayed in a few other Kiahuna condos before, and have always enjoyed our stay. Condo 191 is the best by far! Hearing the surf at night, and being right on the beach was awesome. I don't think we'll want to stay anywhere else next time. Snorkeling on the east edge of Kiahuna was superb. We appreciated the boogie board, beach umbrellas and cooler available for our use.

Our fishing charter on the Maka Hou (Sportfish Hawaii) was excellent. We caught 9 ahi, a wahoo and a mahi mahi. Brought enough back to the condo for a BBQ on the grounds, with mahi mahi and ahi sashimi. That was our favorite dinner. As far as restaurants go, we find Tidepools to be our all-time favorite. Keoki's Paradise had good service and great food, too. Plantation Gardens restaurant was a let down.

As always, our visit to Kauai went to fast and we were sad to go home. Next time we'd like to stay at least 2 weeks.

All our best,
Valerie & Tom

January 2008


2018 | 2017 | 2016 | 2015 | 2014 | 2013 | 2012 | 2011 | 2010 | 2009 | 2008 | 2007 | 2006 | 2005 | 2004 | 2003 | 2002 | 2001 | 2000 | 1999
---
2007
---
Dear Gordon & Barb
We really enjoyed our 9 days in #191, inspite of the storm. Your place was very clean and nice. The carpet looked new, which was a real plus. Maintenance was always very helpful when we needed something. They came to fix the DVD immediately. Sorry I bothered you first.
Anyway the 2nd half of our stay the weather returned to what I think was normal for that time of year. It was beautiful. Just enough rain so that you don't get too hot; like our Oregon summers.
I am considering returning next November, for 2 weeks before thanksgiving. Do you have any time open then? Let me know and what the price is at that time; more or less than December?
Thanks,
Kathy
December 17th, 2007
---
Dear Gordon
We had FANTASTIC TRIP at your place - thank you for placing your unit on the rental market! The weather was picture perfect with rain only at nights while we slept. The shutters and screening gave us that wonderful ocean noise to lull us to sleep early every night. The boys boogie boarded non stop and we enjoyed the use of your high quality boogie board immensely!

We met several of your neighbors and found the whole Plantation a delight.

Thanks again,
Camilla and Jeff
November 15th, 2007
---
Hi Gordon,
Greetings from Kauai. Today is our last morning. So sad to go home. We have had such a wonderful vacation. Your condo is wonderful. So happy we found you.

We would like to book again next year. Please let me know if this unit is availble.

Thanks again. We can't wait to come back.

-Amy
Oct. 28th, 2007
---
Hi Gordon

Just a quick note to say that your unit at Kiahuna (134) is perfect. Everything is better than advertised. Thank you on behalf of my wife and toddler.

Perry
Sept. 2007
---
Hi Gordon,
We are back and got out just as Hurricane Flossie was causing high winds, surf and rain on the big island. However, no problems on Kauai's. In fact, we had one of the nicest vacation we have every had, and it was partly due to your wonderful condos.
Our friends, who were staying in #191, were so happy with the beachfront condo that they decided it was the most beautiful place they had ever stayed on an island. They have never been to any of the Hawaiian Islands but were thoroughly impressed and can't wait to get back. We, of course, know how extraordinary Kauai is, and took full advantage of many outdoor activities. One thing we did this time that we hadn't done before was part of the Kalalau Trail to Hanakapiai Beach - unbelievable views. I have only seen the Na Pali Coast from the water. This was spectacular in its own way.
The time went by far too quickly, but we took lots of pictures to enjoy the memories. Thank you so much for making our stay just that much nicer. We all plan to go over again in about three years (if we can wait that long!), and can't think of a more beautiful, relaxing place to stay than in your condos!
Have a wonderful coming year!
Aloha,
Wendy and Mark
August 17th, 2007
---
Hi Gordon -
We just returned from a lovely 5 days at the Kiahuna Plantation. Loved your condo; the place was elegant and clean, the staff were great, and of course the location was beautiful. Thanks so much.
Best,
Dave
May 2007
---
GORDON! That was the BEST vacation I have ever been on. My whole family loved it. We were in HEAVEN!!!
That is the most BEAUTIFUL place in the world. It sure was difficult coming back to muggy Texas, allergies, etc.
How can I ever thank you enough for allowing us to stay in your beautiful condo?? It was like a dream. We are already starting to save our money for another trip. THANK YOU THANK YOU!!!!!!!!!!!!
Thank you,
Anna
May 2007
---
Hi Gordon,
We just returned from Hawaii early this morning and had such a good time in your beach front unit. We loved it! Thank you so much. We were hoping to book it for next year during the Easter week. The dates are thursday March 20th thru saturday March 29th. Do you even book this far in advance and is the condo available? Let me know. Thanks again Gordon. I hope to hear from you soon.
Paulette
April 15th, 2007
---
Hello Gordon,
Our stay last week in 142 at Kiahuna was wonderful! It is a beautiful resort, and we were so pleased with your bright, spacious unit and found that it was perfectly equipped for our needs.
I hadn't been on Kaua'i since 1978 when a girlfriend and I hitchhiked and camped our way around the island. Of course it's much more crowded now, but it is still very lovely and a very relaxing place for a vacation. Many thanks for making your unit available to us – I hope we can do it again sometime!
Best regards,
Lynn
March 2007
2018 | 2017 | 2016 | 2015 | 2014 | 2013 | 2012 | 2011 | 2010 | 2009 | 2008 | 2007 | 2006 | 2005 | 2004 | 2003 | 2002 | 2001 | 2000 | 1999
---
2006
---
Hi Gordon...We had a grand stay in #134!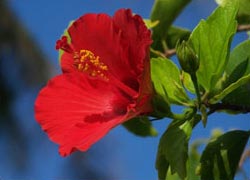 We returned to CA last Thursday night....still trying to adjust to the cold! We had a wonderful time, great weather, some new adventures, and really enjoyed unit 134! We met a couple who are attending a wedding over there next spring...so I showed them your condo and gave them your card....they may be contacting you! Don't know their names, but they are from the Seattle area!

Also..........we have some other friends who we have referred....just sent your website to them.

By the way, how much is the rent on the 2 bedroom?

And..........just fyi..........we stumbled into a wonderful lunch in Hanapepe at a little place whose name escapes me..........something like Hanapepe Grill. I will think of it and send. Really terrific food! They also serve dinner. And we had another wonderful lunch at the Lighthouse Grill in Kilauea, after checking out the Lighthouse.

So................Thanks again and Happy Holidays to you and your clan!

Barbara and Jake
Dec 2006
---
Hi Gordon,
Well we have arrived back in California after an incredible trip to Hawaii. We could not have asked for a beter location than #191. It was the perfect way to fall asleep each night and wake up each morning to the sounds of crashing waves. Our son loved the surf in front of the condo, surfing, boogie boarding and swimming.
I am so glad Mary B. referred us to your condos. We hope to return quite a few times for our vacations in Kauai.
Best regards,
Sandy
August 2006
---
Dear Gordon, we just returned from Kiahuna and had a wonderful time. It was such a thrill to stay in a two bedroom unit - something we have always wanted to do. We thorougly enjoyed the space and the quiet. Thank you so much for sharing your Kauai home with us and for arranging our first night's stay.
Mahalo.
Bruce and Avril
July 22nd, 2006
---
Gordon:
We returned on Sunday from our awesome trip to Kauai. It was hard for us to find the incentive to want to come home. We can not tell you how incredible it was staying at the Kiahuna Plantation. We loved the spaciousness and warm comfort of your condo. The geckos kept us company every night and were such a thrill for us! The staff at Kiahuna went out of their way to make us feel welcome and to assist us with whatever help we needed as far as sightseeing plans, arrangements, housekeeping, etc.
Thank you for the tips you gave us before hand re: where to shop for groceries, the luau (Sheraton luau was incredible!), etc. They were a big help.
We are already talking about when we can go back to the Kiahuna Plantation.
Mahalo,
Pam and Jim
June 2006
---
We avoided snow back home! 191 has the best spot in the complex. We visited other places, including the magnificient Hyatt complex, but none came close to your place, Gordon. The lanai, lawns, beach, and beauty combined to force us to relax for a change! We plan to return, as soon as we finish exploring the rest of our beautiful planet. We will depart for Oahu this afternoon; home late Wed night. We will savor many fond memries of Hawaii-- especially, Kauai & number 191!
Chuck & Mary Kay Munroe
March 12th, 2006
---
Hi Gordon,
Just wanted to send you a short note and let you know how much we loved your unit!!! It was so wonderful to be so close to the ocean. I guess there is no turning back now. I told my husband that I could not imagine staying in any other location!
Thanks so much. We thoroughly enjoyed our Thanksgiving in Kauai.
Merry Christmas and Happy New Year,
Tammy Massie and Family
2/30/06
---
Subject: Happy New Year
Hi Gordon,
Just wanted to wish you a Happy New Year and express our thanks for making your condo (191) at Kiahuna Plantation available to us again last fall. Kauai is our favorite island and the location of your condo is a big part of the wonderful experiences we have had. We hope to get back there every year or two.
Best wishes and Mahalo,
Doug and Bev
1/3/06
---
Hi Gordon! I just wanted to let you know that we are back and that we had a WONDERFUL time at your condo. The location was just perfect. We had great weather- all in all, it was fabulous. Thanks for renting to us!
We are trying to figure out next year's vacation plans. Going back to the Kiahuna is at the top of our list for next xmas/new years. Would you consider giving us right of first refusal on the dates from Dec 22 to Jan 1st? I'm not sure when school gets out for winter break next year, but I should be able to find out in the next month or so. Then I would be able to narrow it down to specific dates. If you could do that, we'd really appreciate it!
Happy new year and thanks again!
marcie
1/1/06
2018 | 2017 | 2016 | 2015 | 2014 | 2013 | 2012 | 2011 | 2010 | 2009 | 2008 | 2007 | 2006 | 2005 | 2004 | 2003 | 2002 | 2001 | 2000 | 1999
---
2005
---
Subject: Thank you very much!
Aloha,
We had such a great time at your condo #142. Not only was the condo perfect but the weather couldn't have been nicer. Thanks also for your tips about grocery stores, etc. I can't wait to stay there again. We also located your other 2 units in case a larger family group wants to come next time.
Mahalo,
Jane
12/8/05
---
Ward Family,
What a great treasure. We enjoyed every bit of the island. Snorkeling at tunnels was great! Looking down at Queen's Bathe beautiful (to rough to godown and in) Annini Beach is awesome. (If anyone golfs don't miss the Prince Course) Especially liked the family art on the walls. We'll definitely recommend #191 to others. Almost felt sorry for the people staying up near the highway. (not) We even caught a lightning storm on our last night.
Mahalo!!!
Don & Carole
Oct 31st - Nov 9th 2005
---
The ultralight flight with Ultralight Adventures was one of the most amazing experiences I've had! That flight is definitely my #1 experience here - I highly recommend it! I'll truly miss this place - we're in for a culture shock when we arrive in Waikiki today. #191 has been everything wee hoped it would be!
P.S. Check out the fruit stand on Poipu Rd! Great snorkeling to be had right outside! Smoothies made fromfresh fruit--mmm! & LappertsVanilla Bean! The sunrise run to Spouting Horn is great (about 3 miles one way) The beach House has excellant views of sunset. Wear sunscreen!
Steve
8-24-05 to 9-1-05
---
Subject: 142, 134, 191
Gordon, These numbers will long be associated with great pleasure and family joy. Sorry for the belated response (we left a few notes in the guest books), but we had a wonderful time. Your units are terrific. 142 was the perfect center for family gathering and meals and games. 134 was a quiet exquisitely decorated getaway for my wife and me (with fascinating paintings on the walls); and 191 was as you predicted a perfect ending with beautiful view and lulling waves sounding through the night. One or more of the group, crammed just about as much as one could into the six days: snorkeling at Poipu, swimming everyday in the soft sanding beach at Poipu, surfboarding, hiking in Waimea canyon, catamaran sailing out of Port Allen with additional snorkeling, horseback riding, Fern Grotto boat trip, beachwalks on the Northeast coast, etc. Also the warm weather was a healthy balm for my 86 year old mother-in-law who flew in from 15 degree weather in Ohio and who had never before been out of the continental USA.

Thanks again. We hope to return.

Dick and Margaret
4/21/05
---
Dear Gordon:

We are home (and back to work) after a great week in your condo. We loved the place and certainly enjoyed ourselves. Kiahuna Plantation is an absolutely a delightful place to vacation - beautiful beaches, centrally located, lovely grounds and many other fabulous amenities. We did get in a couple of fabulous hikes. I laughed at the entries in your guest books for their continued use of the word "paradise" in almost every entry. However looking back, I can't find any word that better describes Kauai and Unit 191 than "PARADISE"!!

Thanks so much.

Sincerely,
Pookie and Jim

3/14/05
---
Gordon,

This is to thank you for the opportunity to stay at your unit (#191) at Kiahuna Plantation (1/31/05 – 2/7/05). Janis and I really enjoyed our visit, and of course, the property was everything that we hoped it would be. The first few days of our stay were quite rainy, but it didn't dampen our spirits at all. It is a remarkable location on a remarkable island.

Thanks again for the opportunity. This may need to become an annual adventure for us.

Rob

03/03/05

2018 | 2017 | 2016 | 2015 | 2014 | 2013 | 2012 | 2011 | 2010 | 2009 | 2008 | 2007 | 2006 | 2005 | 2004 | 2003 | 2002 | 2001 | 2000 | 1999
---
2004
---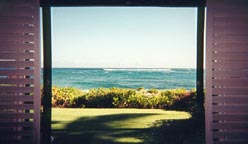 Gordon,
I just wanted to say pass on that we really enjoyed the condo. It is the same one we stayed in several years ago. We plan to go back in a couple of years.
Thanks again,
Michael
11/17/04
---
Gordon I wanted to thank you again for 191. This year was even better than last. My wife's parents really enjoyed 196, thanks for the contact. I have a friend that would like 191 the end of February. How about 24-28?

Thanks JD

10/30/04
---
Dear Gordon:
We arrived back in Napa on Tuesday night after a wonderful week in unit #142! We just want to thank you so much for opening your home to our family. Kauai is more beautiful than anyone could ever imagine from just seeing photos -- you just have to experience it first hand!
The beach at Kiahuna is absolutely gorgeous. We loved everything there, from the accomodations, the weather, the lush plantation grounds, the restaurants, shopping, spectacular views, to the quiet moments of reflection enjoyed during early morning walks on the beach. God has certainly created a beautiful world for us to enjoy and we are grateful for your willingness to share it with many families. We made a lifetime of memories and hope to be able to return in the near future.
Warm regards,
Linda and Richard
8/28/04
---
Gordon - I put a check in the mail today for $350.00 to hold our reservation for next year. We had an excellent trip...the weather was great. Had a couple of days of "really big" ocean waves. I had never seen it like that before. I'm sure the surfers were happy. Lots of sea turtles in close to shore those two days too...don't know if that had anything to do with it. The grounds at Kiahuna were spectacular.
Anyway, just wanted to give you a heads up that I had mailed the deposit...Thanks, Candy
7/20/04
---
Hello Gordon,
Thank you again for a wonderful stay at Kiahuna. We had wonderful weather and surf for our 3 week stay (June 17-July 8.) We are still amazed at all we can do and see on Kauai and Kiahuna after nearly 30 years of visiting the island. We enjoyed both of your units. They are well stocked and so comfortable. Our children love the open grass area, where we had many whiffle ball games and even a water balloon fight this year. Each child met a friend on our stay...what a perfect playground. This was the first year we found Wal-Mart. I highly recommend a visit there to get the essentials and as many groceries as possible. Great prices and lots of fun. They have great Aloha shirts for men and boys and the flip flop collection and prices were phenomenal. We left a load of children's games and books for visitors to come and enjoy.
We had such a wonderful time we would like to book again for next year. Please let me know the availability and we can go from there.
Thanks again for a wonderful vacation.
Sue
7/20/04
---
Gordon,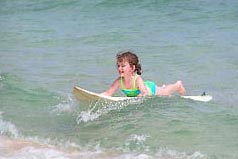 We had a wonderful time at Kiahuna and thank you for the use of your condo. The size was perfect for us and a real treat after staying in one bedrooms on our prior trips (of course, it was only the two of us back then!). Great trip and lots of relaxing. LOVE that new pool! The kids enjoyed the water slide and waterfalls there. They also were on Dad's and big brother's surfboards out front and rode waves in (on their tummies) and they are only 4 1/2!

Thanks again, and I have all of your info if we need a rental again in the future or if a referral opportunity should arise.

Cathy

6/29/04
---
Dear Gordon,
We thoroughly enjoyed our stay in your unit 134. It was our first time to stay in Kiahuna Plantation, and the experience was delightful. Although the weather was unusually warm for that time of year, the condo was very comfortable, and the development is impeccably maintained and surprisingly
quiet.
Sincerely,
Bob
7/11
---
Back from the Islands and so very much enjoyed your unit. It's an ideal location and the view down the lawn is on par with an ocean view... All in all, a thoroughly delightful stay and look forward to a visit again soon.

Regards, James
4/04
---
Gordon,
We wanted to thank you for letting us rent your condo last week. I can't think of a better spot...right on the beach! The entire family had a great time, the weather cooperated, and your place worked out perfectly.
Thanks again.
Bill
4/04
---
Hi, Gordon.
Just wanted to drop you a quick note thanking you again for renting us Unit 134 last week. We had a nearly perfect time -- the weather was great, the grounds at Kiahuna were beautiful, and the unit itself was just right. It was truly difficult to come back home to the snow and cold. I'm sure we'll be in touch with you again for future trips.

Mahalo,
Scott and Brenda Williams
1/21/04
2018 | 2017 | 2016 | 2015 | 2014 | 2013 | 2012 | 2011 | 2010 | 2009 | 2008 | 2007 | 2006 | 2005 | 2004 | 2003 | 2002 | 2001 | 2000 | 1999
---
2003
---
Dear Gordon,
We had a lovely stay at your condo in Kauai! Kiahuna Plantation is very well run, and the grounds and the beach were fabulous. 5 nights/6 days were way too short -- we hope to return soon.
Thanks for the useful tips, and happy holidays!
Caroline
12/23/03
---
Hi Gordon! I wanted to let you know that my husband and I very much enjoyed our vacation in your 2 bedroom condo at Kiahuna Plantation from 11/14-11/21. We loved the condo and were extremely sad to leave. This was our 5th trip to Kauai and our 3rd to Kiahuna Plantation. We know now that we prefer the 2 bedroom condos instead of the 1 bedroom ones. Our daughter especially loved the space available to her on the second floor.

Thanks again for a great condo!

Michael and Eileen
12/3/03
---
Hi Gordon - Maureen and I just got back from Kauai where we stayed at #142. Great place. Enjoyed the condo and the area and hope to go back. Thanks so much.
11/10/03
---
Dear Gordon,

Thank you so much for extending your hospitality to our family. We had a blast in your large 2 story, 2 bedroom condominium # 142. It felt so much like home.

Although the kids left early, my husband and I had a blast after they left for the mainland!! We went to the Kilohana luau and enjoyed the entertainment very much, savored the foods at the buffet (especially the kalua pig - yummy). We have traveled to the Hawaiian islands 5 times already and not once have we been to a luau. So this time I just told my hubby that we are going to a luau.

We also drove to the North Shore where we stopped at Kauai Orchids to purchase an orchid plant to be shipped to the Mainland. We also visited the bird sanctuary at the Kilauea Point and Lighthouse. The view from the point is magnificent. We then proceeded to Ke'e Beach, while stopping to take photos of the Maniniholo Dry Cave and attempted to take photos of the Wet Caves. The wet caves were way too dark. My husband tried shining the rental car's headlights at the caves to no avail. At Ke'e beach, the water didn't seem treacherous, although I didn't go for a swim. I had no idea that my husband intended for us to hike 2 miles up the Kalalau Trail. I declined to hike up, since it was going to get dark in less than 2 hours. I held onto the cell phone and waited for him at the beach, ready to call search and rescue if he didn't make it back down. Let me tell you, the wait was unnerving. When he made it down the trail just a few minutes after the sun went down, I wanted to beat him with my cell phone. Needless to say, I was slightly irritated the whole trip back to Poipu Beach. I was glad, though, that he had fun.

The next day, we went shopping at various stores we saw at Kapaa where stuff were sold at very affordable prices - Hawaiian shirts, sarongs, kid shirts, just to name a few. The following day, we rented bicycles from Outfitters located just a few blocks from Kiahuna and biked from their shop to the Mahaulepu Beach - the most undeveloped part of Kauai I have ever seen. The bike ride was rough but fun. Fortunately, it rained off and on during our bike ride - so it kept us cool and wet. I love rain. I miss the warm rainfall of the Pacific. Our tough bike ride was rewarded by the gorgeous, peaceful undeveloped beach. We walked along the lava rocks and along the beach. We couldn't locate the fossilized prints on the beach, though. The staff at Outfitters told us the cave is off limits because it is now an archaeological site. The next time we go to Kauai, we will bring more supplies so we can stay there longer. I would have loved to watch the sunset at Mahaulepu Beach. maybe next time.

On days we didn't drive to see sights, we snorkeled at the beach that fronted Kiahuna. We saw a sea turtle one day. I freaked out because it was swimming right at me. It was huge!! As you can tell, I am not a very experienced snorkeler.

We revisited Waimea Canyon - still looks the same...still very grand!! We also walked to Spouting Horn from Kiahuna Plantation. By the way, the orchids at the Plantation Gardens were magnificent! We completely forgot to take photos of the garden. We also made it to Kauai Coffee Shop...where there were plenty of coffee flavors to sample and purchase. We also managed to go to Hanapepe town.. the biggest smallest town in Kauai. I had shave ice halo halo there. I haven't had halo halo in decades. It was great!!

We also saw Wailua Falls, it was awesome. We didn't hike or kayak (this time), we just drove the rental car to the point where we could view the falls. It's still awesome. I love waterfalls.

During the last 4 days of our stay in Kauai, there was a tropical storm. It rained off and on and the surf was so loud you could hear it from the Condo #142. We didn't mind the rain at all. Next time we visit Kauai (3rd visit), we plan to go around May or June.

Thank you again for your hospitality, Gordon. It was a wonderful way to celebrate our 25th anniversary.

Josefina

11/8/03
---
Dear Mr. Ward,
What a delight it was to stay in Unit #191. The ocean front location is wonderful - the private lawn lanai - yet close enough to hear the waves crashing. It rained a couple of times at night but always clear the following day. Great weather. We loved all 10 days of our stay.

We are working on plans for next year - we definitely will stay in touch!
Mahalo!
Fred & Cheri Simmons
9/21/03
---
GORDON,
WE HAD A WONDERFUL TIME!!! WE STAYED IN #134, IT HAS A GREAT LOCATION WITH BEAUTIFUL VIEWS. THE WEATHER WAS GREAT, ONLY RAINED AT NIGHT. WE SWAM OUT FRONT, SNORKELED IN POIPU, LYDGATE & SALT PONDS. WE WENT ON THE HOLOHOLO CHARTER TO SEE THE NAPALI AND SNORKELED OFF OF LE HUA NEAR NI IHAU. WE FELT LIKE WE WERE IN AN ENORMOUS AQUARIUM, THE WATER WAS SO CLEAR WITH THOUSANDS OF FISH. WE ARE LOOKING FORWARD TO ANOTHER VISIT NEXT YEAR.
THANK YOU
THE LANSING'S
8/9/03
---
Dear Gordon:
Just wanted you to know that we had a fantastic trip from start to finish. The condo (191) was perfect. We loved the location, we had great weather, the surf was awesome, bbq(ed) every night (fish express, yum!), and some how we were given first class seats on the flight to and from. Go figure. That was not planned. Thanks for the maid service during the week it was really nice. Again, thanks for your help and sharing your condo with us.
The Cowan's
Aug 1st, 2003
---
Wards,

We stayed at your condo #134 during the week of July-19. We a great time. It was our 10 year anniversary and we left our children with Grandma and Grandpa. I cannot say how right you were when you said it would be quiet. We were plenty close to the beach and yet had great privacy. We had to extend our stay one extra night to get a good rate on our flight (Oh what a shame :-). We managed to get another unit in the Kiahuna plantation. This unit could not compare to yours. It was so nice to have all the extras (Ice chests, cooking utensils, plastic drinking cups, ect). You have a great thing going and we will be back in a couple of years if you are still renting.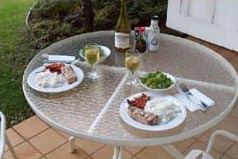 Here are a couple of pictures from our trip. Feel free to use them on your web site. The lizard picture is from the flower bed next to the lanai. The food is a shrimp and sword fish dinner I cooked on the barbeque. I have higher resolution pictures if you want them.
Thanks again for a great time
Susan and John
Minden, Nevada
7/31/03
---
Dear Gordan,

We had a wonderful time at your fabulous condo from June 21 to July 5. We hated leaving. My family has visited Kauai for the last 32 years and 30 of it at Kiahuna. We feel that it is home away from home. The weather was perfect with big surf. The kids had a blast playing in the waves. We saw gorgeous fish and a monk seal took over some prime real estate one day. The kids learned a lot about the seals and the Hawaiian Sea Turtles on this trip. I was 8 the first time I went to Kauai and 10 when I visited Kiahuna. My son has been three times also, but this time was seven and it was like coming full circle for me. We hope to return to the islands again soon. I intend to keep your website on my "favorites."

Thanks again for a fabulous two week vacation,
Sue

July 20th, 2003
---
Gordon:

Your condo was great and I had a wonderful time. Looking forward to going back soon. Will check with you to see if you have dates available, as soon as I can figure out a way to "play hookey" and go to Kauai.

THANKS!
Chris

Sat, May 31st 2003
---
Hi Gordon, Your condo #134 is beautifully decorated, loved the color, it added a lot to the enjoyment of our trip this year. The location is perfect, what a great addition to those you already own. We are already thinking about returning next year in March or April.

Beth
Mon, April 28th 2003
---
Dear Mr. Ward,

We had a really good vacation on Kauai. Your condo was superb, had a beautiful location and the whole Kiahuna Plantation site was just wonderful. We really enjoyed snorkelling at the beach and the location was excellent for my daughter learning to surf. We ate out once at Keoki's Paradise but found it much more preferrable to barbeque fish at the Plantation BBQ's (good place to socialize). After looking around the Sheraton we're glad we made the decision to rent your condo!

Mahalo
Andy, Grace & Alison
3/31/03
---
Dear Gordon,
Just wanted to say mahalo many times over for ouy stay at your lovely condo on the beautiful island of Kauai. Our trip flew by and I never had the chance to write in the guest book, or when I did it wasn't on my mind. We knew it would be a great vacation but it was soooo much better than we even anticipated. Our only regret is that my husband and I did not have the foresight to continue ouy stay after the family left. NEXT TIME !!!

While there our weather was perfect, though the islanders were saying it was cool?? We did not think that 70's to low 80's was cool. We have now been spoiled and I don't think we could ever go back to Oahu or Maui. Kauai is truly a paradise. We were busy the entire time and managed to explore a good part of the island, but we also know we saved alot for our next visit.

Mahalo once again,
Susan

2/6/03
---
Dear Gordon, We had a great time at your Kiahuna Plantation condominium. The condominium itself was very nice and comfortable. We loved it. We had a very relaxing time, read a lot, beached and snorkeled right at the Kiahuna Beach, saw some whales, ate at lovely restaurants as well as barbecued on the grass there, watched a couple beautiful sunsets, did some exploring of the area in our rental Mustang convertible, attended the Koloa Missionary Church. All in all, a great vacation.

Thanks again -
Kay

1/14/03

2018 | 2017 | 2016 | 2015 | 2014 | 2013 | 2012 | 2011 | 2010 | 2009 | 2008 | 2007 | 2006 | 2005 | 2004 | 2003 | 2002 | 2001 | 2000 | 1999
---
2002
---
Hi Gordon,
What a place and what a trip. You definitly have a slice of heaven on earth here. Of all the things we did, staying here was our favorite.
Many, Many Mahalos,
The Alisons
December 2002
---
Gordon,
I wanted to send a short note to let you know how much we enjoyed our 8 days in Kauai. Unit 191 was so wonderfully located. It was perfect for our baby, with the wonderful lawn, and the access to the beach. The unit itself was well equipped and very comfortable, and the resort had just the right balance of activity and calm, with the ocean providing the appropriate focus. We were lucky enough to see a monk seal, twice, and dolphins and turtles. All very exciting to the adults, and children alike.

Thank you again. We can't wait to get back, so you can expect to hear from us.

Best regards,
Russell, Lynette & Sydney.
11/26/02
---
Such a beautiful spot for our first time in Kauai! We enjoyed the sound of the ocean all night and the beautiful days on the beach with our 3 year old daughter.

Thank you for sharing your perfect location.

The Grandlunds
11/16/02
---
Hi Gordon,
Thanks so much for the 10 days in paradise. The weather was perfect the entire time. What a location! The beauty and sounds of the surf were extraordinary. We decided to hang out and enjoyed breakfast and lunch at the condo. We took your advice and stocked up at the Star Mkt. and we also bought some wonderful fresh produce at the Farmers Mkt. in Koloa.

Hope we can do it again someday.

Regards.
Marian
10/12/02
---
Aloha!
I can't begin to describe how awesome it was to spend two weeks at your place!!! The desire to "not leave Hawaii" was never stronger! Your condo is in the perfect spot on the island. We had a marvelous time and will be back in touch to rent from you again. If you want to use us for references by e-mail, please feel free to do so..

Mahalo!
Rick
10/8/02
---
Gordon,
Just a note of gratitude for the condo ! It was so beautiful. My husband was singing my praises for days, he was so delighted with the location. He is a real estate appraiser, and was very impressed ! We absolutely loved Kauai, especially Poipu, although the North Shore is alluring as well. We toured the NaPali Coast, went hiking in Waimea Canyon, and did a lot of snorkeling, shopping, surfing, dining and sunset watching ! We will definitely be in touch again in the coming years to rent again. And if you ever want to sell.... PLEASE give us a call !!

Mahalo again,
Bridget
9/9/02
---
Dear Gordon-- We had very high hopes & expectations--- and your condo met all of them. What a wonderful spot in a great facility. We feel very lucky to have experienced Kauai again-- the last time was 30 years ago. My - the changes are everywhere, esxcept with the people of Kauai. They are the same hospitable and friendly folks. After a couple of weeks of business meetings in Honolulu, this is just what we had in mind. Thanks again

Janice & Bill

June 27-july 3, 2002
---
Gordon,
We've been back from our stay at condo #142 for about a month, but I wanted to say thank you for making such a nice place available to us. We've now stayed in many units at Kiahuna, but I think this one may be the best all around. Having the extra space of a two-bedroom unit was terrific! We also liked the central location for it - short walk to the beach, laundry room, pool and car - yet also had a great garden view! It may have been our best stay yet, especially since we had almost no rain, little wind and no trips to the emergency room!
We will certainly be back and this is the unit I want to stay in. By the way, the guest book had filled up, so you'll want to bring another on your next trip.
Thanks again - Barbara
P.S. I continue to be a walking advertisement for Kiahuna Plantation, and I recommend your units all the time.
7/8/02
---
Hi Gordon,
Your place in Kiahuna was wonderful! Thanks for the great deal. We may have to make this a yearly occurrence !!
Best,
John 5/28/02
---

Gordon,
I cannot tell you how very much we loved your condo. We were truly on the beach. I would get up every morning and just marvel at our view. We saw whales, porpoise, all types of birds, turtles and of course our friend the monk seal. My daughter was taking surfing lessons in front of the condo and almost ran over the monk seal. The snorkeling down the beach was fabulous as was the spouting horn. Our weather was perfect with showers in the night and hot sunny days. We took the helicopter ride and took a few hikes. Great dinner at the restaurant there. Just in case we want to return next April are you open for the 12th - 19th? Our friends who went with us are going back next April and think we need to go back with them. They stayed at the Embassy Suites and I liked our place much better. Thank you again. My son said you had a much better blender than ours for their smoothies. Let me know about April.
Sincerely Kathy 4/25/02
---
Hello,
Just a short note to let you know that everything went perfect. The weather could have cooperated a little better but what the heck. The added bonus of being able to see whales frolic from the lanai was an unexpected suprise. We are planning to go back.
Thanks again,
Terry 1/29/02
ps: The staff was very friendly and helpful and should be commended, I am writing castle resorts to let them now this.
---
Hi Gordon,
Happy New Year. We had a real nice time in Kauai. Unit #142 was a good fit for my family. Nice doing business with you! Have a healthy year.
Mele Kalikimaka,
Saul 1/3/02
2018 | 2017 | 2016 | 2015 | 2014 | 2013 | 2012 | 2011 | 2010 | 2009 | 2008 | 2007 | 2006 | 2005 | 2004 | 2003 | 2002 | 2001 | 2000 | 1999
---
2001
---
Just a quick note to tell you we had a great time in the condo
last week. It was just what we were looking for. Location couldn't be better and we really appreciated how well it was kept and how clean it was. We tried to keep it that way and leave it as nice as we found it. The place is well equipped and we were able to cook without missing too many kitchen conveniences (thanks for the salt and pepper!). I'm not sure many would think of a steamer basket, but it sure comes in handy for veggies...... we had a wonderful time and would definitely like to return sometime.
Thanks for your help.
Regards,
Mark 11-16-01
---
With great reluctance, we came home. The condo was really just what we needed to escape the kids and the frenzy. If the economy gets back in shape, we'd like to do it again next year. The only thing we learned the hard way was how much the phone rates calling home were. Next time we'll get a phone card. Apparently there was a mention of it in the literature we received but we were too excited to read it! The real bonus was the cassette radio you have there; we came home with 6 hours of 95.9 FM so we can reminisce.
Thanks.
Rich 10-29-01
---
Hi Gordon,
Just wanted to let you know we had a great trip and enjoyed your condo very much. Everything went great, and the staff there are very nice and so helpful. We did a lot of exploring of the island, and my vote is to find some time in our future to spend a couple of months on the island. Two weeks was definitely not enough.
Thanks again for everything...it truly was a pleasure.
Sincerely,
Louis & Candy 10/22/01
---
Gordon -
Just got back last night from our wonderful 10 days on Kauai. Your two bedroom worked out perfectly for us. We had our 19 year old son and his 20 year old best friend with us. The condo was awesome, as was Kauai and Kiahuna. The weather was great and we just had a wonderful time overall. Can't wait to go back, it was hard to leave. Waking up in that condo each morning was like waking up in an aviary...the sounds of all the different birds in the morning was awesome. Early each morning, my husband and I would have coffee on the upper deck and just listen to the birds and look at the beautiful scenery. It's a memory we'll never forget.....Mahalo!
Sil, Candy, Nick & Joe 7/30/01
---
ALOHA!
We had a marvelous time, the condo was wonderful, the weather amazing.... no rain, except at night, then gorgeous all day. Our wedding was wonderful, on shipwreck beach, and took lots of pictures on the grounds. The children loved it as well. Thanks so much for
such a seamless, easy rental experience.
Thanks! Joe and Holly 1-23-01
---
Gordon and Barbara,
Your home in Kauai was even more beautiful than we had imagined. It was the best unit there. We got the added bonus of a front row seat for the New Years eve fireworks.
Thanks again,
Pete and Midge 1-6-01
2018 | 2017 | 2016 | 2015 | 2014 | 2013 | 2012 | 2011 | 2010 | 2009 | 2008 | 2007 | 2006 | 2005 | 2004 | 2003 | 2002 | 2001 | 2000 | 1999
---
2000
---
Gordon,
We had a wonderful time at your oceanfront condominium. Everything we could want was right on site. I hope to return again and will continue to recommend your condominium to friends.
Thanks for sharing your piece of paradise,
Katie 11-12-00
---
Gordon,
Just wanted to send you a quick note. We had a great time in Kauai at your condo. It was sooo relaxing! We loved hearing the ocean right outside our door all night. Everything was perfect for our honeymoon. We really hated to leave to go to Maui. Looking back, we wished we would have stayed on Kauai the whole time. We now know better for next time. We're already talking about going back for our 5 year anniversary!
Thanks again, Laura 9-29-00
---
Gordon,
We had a wonderful time while staying in your condo. We actually had a Monk Seal come up on the beach late one afternoon, until too many people wanted to see, causing him or her to leave. We really enjoyed our time in paradise.
Thanks, Gary & Sharon Baker 6-24-00
---
Kauai was spectacular & Poipu is the ideal place to stay. Always sunny and Kiahuna is beautiful! Incredible snorkeling just off shore -- riding waves in was a blast. Loved the boat trip around Na Pali coast & the helicopter ride was breathtaking.. Will recommend Kauai & Kiahuna to all our friends -- better than Maui. Waves were a constant & calming sound all day and night. Thanks Gordon
Ralph and Deanna 5-23-00
2018 | 2017 | 2016 | 2015 | 2014 | 2013 | 2012 | 2011 | 2010 | 2009 | 2008 | 2007 | 2006 | 2005 | 2004 | 2003 | 2002 | 2001 | 2000 | 1999
---
1999
---
When we walked in the door, this place took our breath away. The blue water jumped right out at us.
Michael and Annie 11-8-99
---
We had a great vacation - didn't leave the beach. Just relaxed, kids stayed in the water and had a wonderful time. No sightseeing this trip, everything was here. Be back in a year.
Curtis, Lisa, and family 7-25-99
---
If we had to do it all over again, we'd spend all the time on Kauai. We had a great time using the condo as a base to explore the island. And whenever we got back late in the day, it seemed that it was a little sunnier and warmer here in Poipu.
Karin and Greg - Jan. 99
Beautiful location, wonderful facility! Be sure to check out the monk seals, regular "sentinels" at the east end of the beach.