Kauai has an abundance of waterfalls, some accessible by car, some by trail or kayak, and some can only be seen from the air. There is something about a waterfall that attracts us to them; they are not only visually beautiful, but seem to refresh our very souls. A yoga handbook actually recommends that in seeking the enhancement of one's body and mind through breathing exercises, one should practice near a waterfall.
Scientists now think they know why. It turns out that negative ions are found in enormous quantities on mountain tops, by the sea, and particularly by waterfalls. Negative ions are invisible molecules produced by the agitation of the falling water, up to 10,000 negative ions/cc of air, that we inhale in abundance around waterfalls. There is evidence that negative ions stimulate the absorption of serotonin in the brain which corresponds to better mood, lower stress, and increased daytime energy.
Check your favorite guide book for directions to these falls:
Kipu Falls
Closest to Kiahuna, Kipu Falls is a 30 minute hike through fairly flat terrain off Kipu Road. This twenty foot falls on Huleia Stream features a pool below for swimming, popular with locals.
Wailua Falls
A spectacular waterfall on the South Fork of the Wailua River plunges 80 feet. One can drive near the viewing area at the rim. For the foolhardy, we are told there is another parking area at the head of an unmaintained and dangerous trail which, with the aid of roots and brances, leads one to the bottom. For obvious reasons, we don't recommend this trail.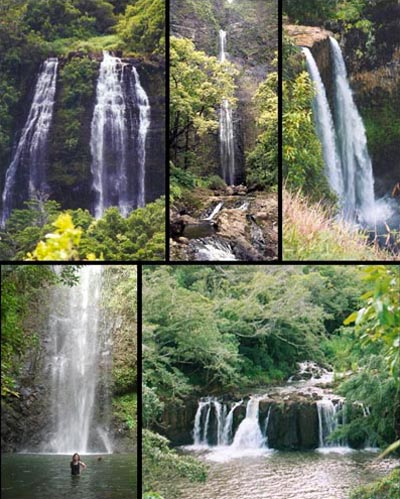 Uluwehi Falls
Also known as Secret Falls, this 100 ft waterfall is most commonly accessed by kayakers on the Wailua River. There are several kayak outfitters giving guided tours which take about 4.5 hours to complete. The hike portion is about 30 minutes through lush forest to the waterfall. Most guides are great at identifying native plants for you as well as giving interesting Kauai history details. Colorful Kauai chickens are usually around the bottom of the falls looking for insects and any handouts from visitors having picnic lunch.
Hanakapiai Falls
This is a hike along the Na Pali Coast and up the Hanakapiai Valley. It's about 4 hours round trip from Kee Beach.
Opaekaa Falls
Go up the Wailua River on Kuamoo Road about two miles. There is an overlook of the falls and view of the Wailua River.
Waipoo Falls
Upper and Lower Waipoo Falls, on Kokee Stream in the Waimea Canyon, offer pools and a beautiful garden like setting.
Ho'opi'i Falls
There are two falls on the Kapa'a Stream, both referred to as Ho'opi'i Falls. You can hike to these falls, access is off Kapahi Road.
© 1998-2023 KiahunaCondos.com - Celebrating our 25th year on the internet - Web Design by Website Sedona